Contributing Author
13 min read
Last updated on:
September 20, 2022
StrongDM manages and audits access to infrastructure.
Role-based, attribute-based, & just-in-time access to infrastructure
Connect any person or service to any infrastructure, anywhere
Logging like you've never seen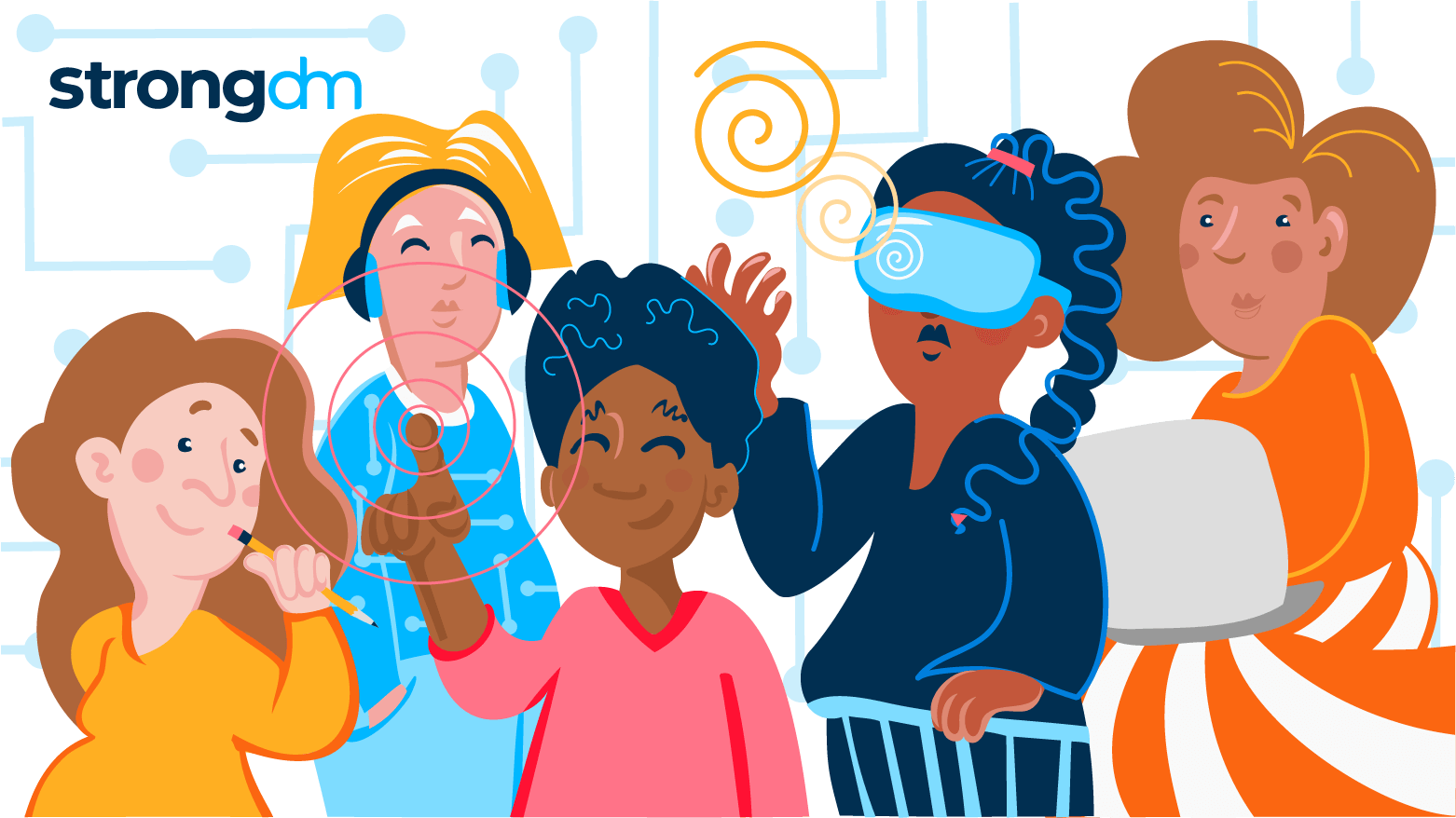 Throughout history, women have played a vital role in technology. From Ada Lovelace, the first computer programmer, to Katherine Johnson's space calculations made famous in the movie Hidden Figures, women in information technology paved the way for much of the computing power we take for granted today.
Yet, in the information technology field, female representation falls short. Women make up nearly half the workforce in the United States. Still, in tech, that number is far lower. According to Gartner, only 31% of IT employees are women. Meanwhile, companies are struggling to find talent. In cybersecurity alone, there are nearly 500,000 job openings, making it an excellent time for women in information technology to find work.
Why Should Women Get Into IT?
Not only is there a lot of opportunity for anyone in the IT field, but there is a lot of opportunity for women in information technology–and not just because of the dearth of female talent.
Massive Earnings Potential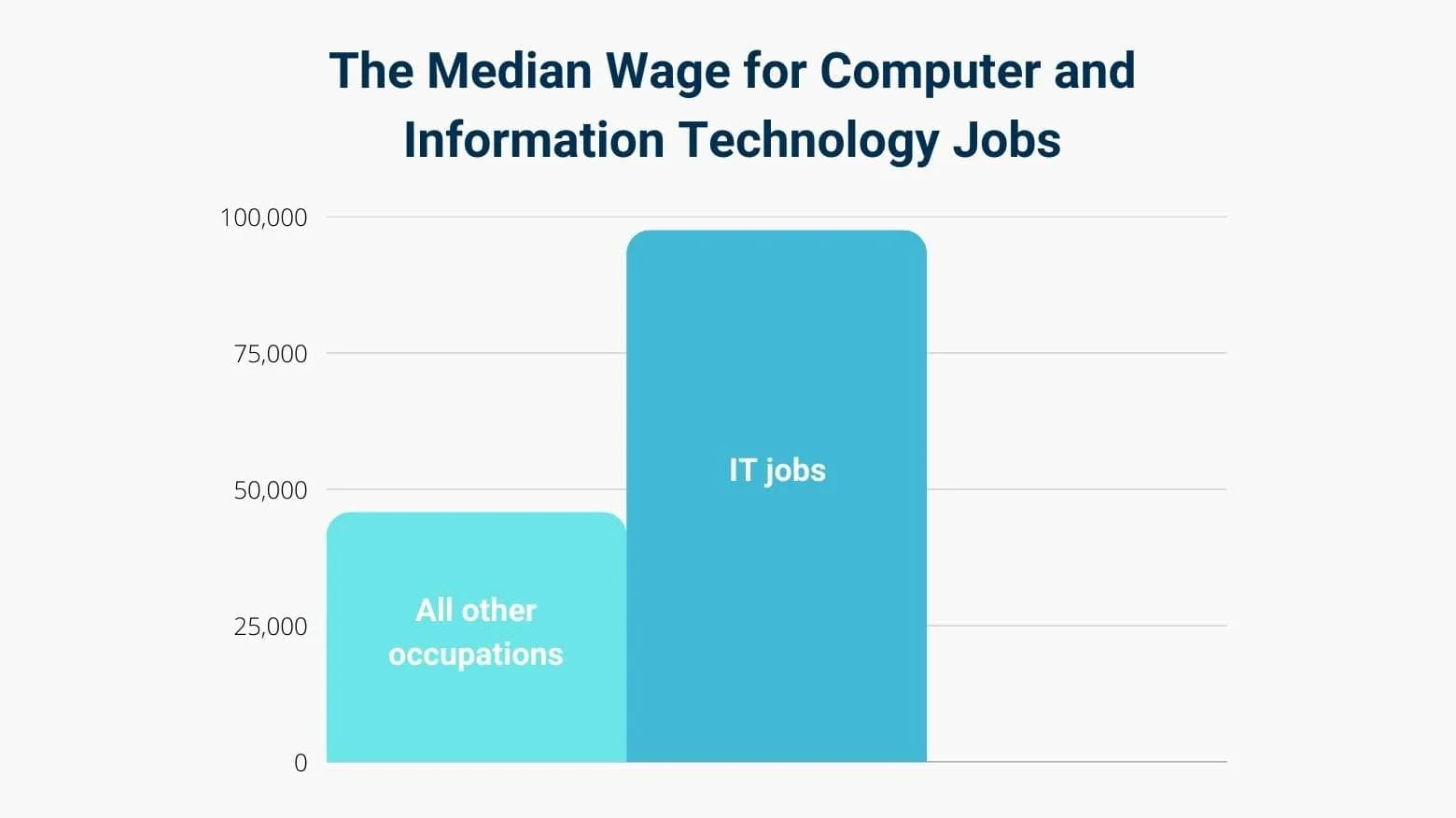 According to the U.S. Bureau of Labor Statistics (BLS), computer and information technology jobs are expected to grow by 13 percent from 2020 to 2030, adding 667,600 new jobs. The median wage for these jobs is $97,430, higher than the median wage for all occupations of $45,760.
Constantly Evolving Projects
If money isn't enough of a motivation, consider all that can be accomplished with technology. Women in information technology get to work on the latest tools, and as new markets and innovations arrive, rarely get bored. There is always something new to learn.
Work Anywhere
Working in IT is also a completely portable career. With the right skills, a woman can write her ticket to work wherever she wants, whether developing applications that change people's lives or starting her own business. Some IT careers are also remote positions, offering flexibility.
Types of Challenges Women Face in the Tech Industry
Let's be honest; being a woman in the tech industry is not without its challenges. Working in a male-dominated field often means difficulty relating to peers, discrimination, and even a lack of support from family and friends.
The "Bro Culture"
Because women aren't well-represented in technology, 71 percent of women report working at a company with a "bro culture." While not all companies are like this, the reality is that off-color jokes or offensive remarks do surface in this type of environment.
Harassment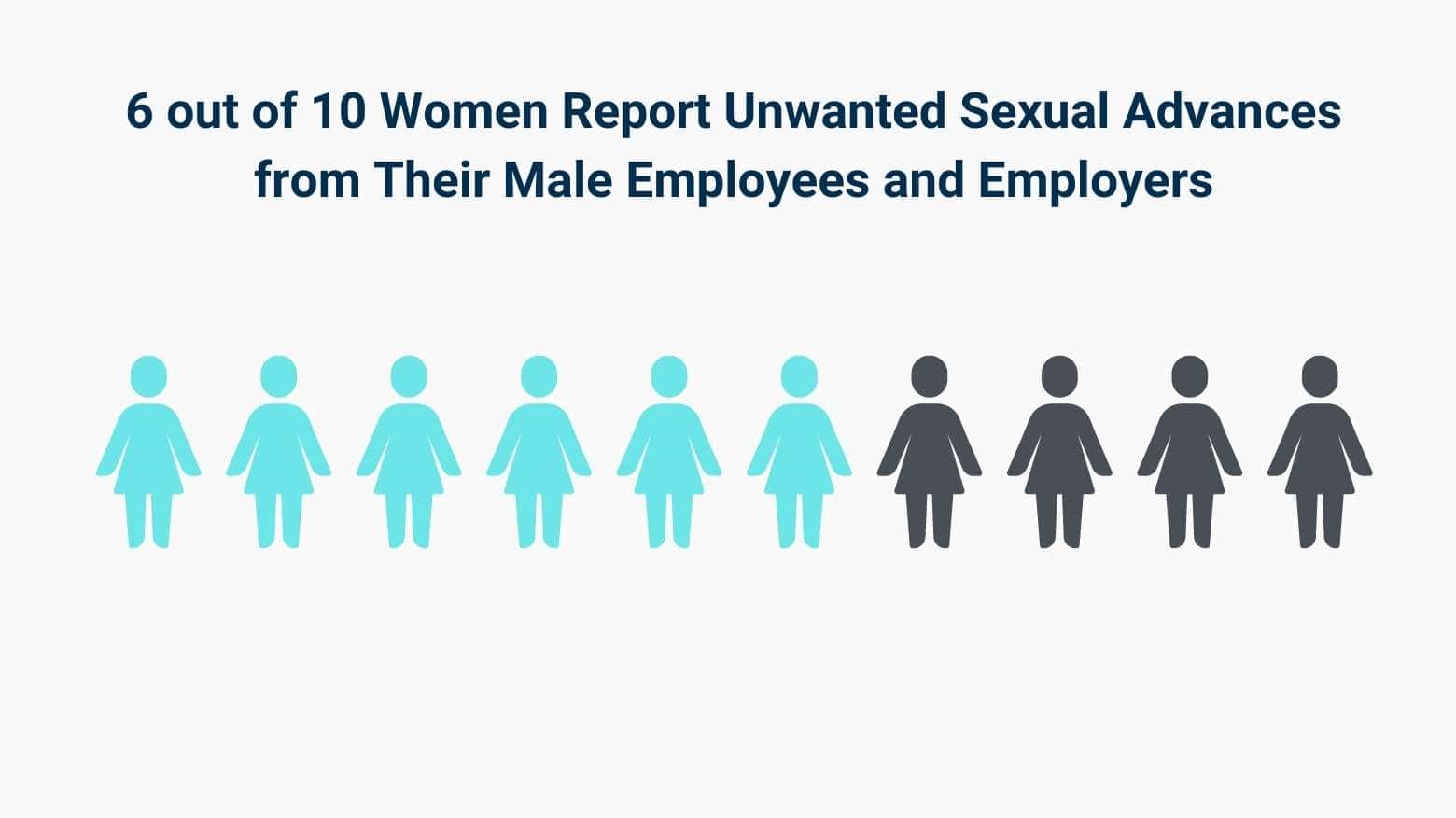 Sadly, sexual harassment is alive and well in the workplace. Over half of women in information technology–60%–report unwanted sexual advances from their male employees and employers. A startling 65% of those advances are from their bosses or superiors.
Inequality and Discrimination
Additionally, there tends to still be inequality and discrimination. The best promotions and networking opportunities may go to men at a higher rate. Women may also make less, salary-wise, than their male counterparts. Ultimately, the old saying about having to work twice as hard to prove themselves seems to be the case.
Lack of Support
Women in information technology also report that they don't feel supported by their coworkers–and sometimes, even their family members and friends. They may be told to "get over it" or "look the other way" when their male counterparts are being promoted faster than them, or they may have to answer probing or uncomfortable questions about why they chose to get into such a male-dominated field in the first place.
How to Overcome Challenges and Thrive as a Woman in IT
There is a bias against women, but it's not insurmountable–as pioneering women like Jackson and computer scientist Margaret Hamilton, another NASA superstar, made clear. Women in information technology can overcome these challenges and thrive in the field.
Discrimination and Harassment
In today's climate, employers are much more willing to address discrimination and harassment when it's brought to their attention. For women in information technology who experience it, their best bet is to bring it to the attention of their supervisor or human resources.
Additionally, companies need to educate their employees about discrimination and harassment, as well as teach them how to deal with it. For example, they can provide training on what constitutes sexual harassment. They also need to set an example for the company by treating all employees with respect, offering promotions and opportunities based on merit, and adopting flexible policies so that employees, regardless of gender or family status, can attend to responsibilities outside their jobs.
Fitting in with Peers
Let's face it, no male-dominated industry is going to be easy to break into, and women may not feel like they fit in. Fortunately, not all companies are the same old "boys club." Many are actively looking for diverse teams. For women in technology, finding companies whose culture aligns with their goals will be key. Additionally, many companies now operate as a meritocracy, so staying on top of new technology and keeping skills sharp will go a long way toward fitting in with peers.
Getting Support
Communication is critical for women to gain support from family and friends as they navigate the information technology industry. Things like active listening, scheduling family and one-on-one time, and showing kindness and appreciation–on all sides–can go a long way toward helping family members understand why the industry is so important.
Why IT Needs More Women
IT needs more women. The industry is growing quickly, and companies are struggling to find qualified talent. We need more people in technology, period. More women in information technology mean that employers have an opportunity to build diverse teams and cultivate thriving businesses.

Most importantly, bringing in more women means more innovation and creative problem-solving. Studies have found that women tend to be more empathetic than men–which translates into getting more participation from the quiet team members or approaching a problem from a customer's point of view that a male engineer may not consider. More women also mean more profits. A McKinsey analysis found that companies with more gender diversity on their leadership teams were 25% more likely to hit above-average profits.

Additionally, more women in IT means less sexual harassment and discomfort and more balance. Imagine a team of software engineers that is more representative of the population. There could be more camaraderie and understanding.
Better representation could also lead to less discrimination and more understanding among family and friends. It wouldn't be considered unusual to see a woman heading up a team of cybersecurity professionals. It would even encourage young girls to chase after their own technology dreams.
Comprehensive List of IT Jobs and Career Options
There are plenty of options for women ready to build a career in information technology. From data analysts to cybersecurity specialists and user experience design, women can enter a field that pays very well and provides opportunities for growth and advancement. Most positions require at least a bachelor's degree or other education, and some will require special certifications.
Information Security Analysts
With high-profile data breaches costing companies millions of dollars, information security analysts are in high demand. These professionals monitor networks for breaches and investigate violations; test for system vulnerabilities; deploy software to protect data; document breaches; create strategies and standards to prevent breaches; and recommend ways to improve the organization's cybersecurity posture.
Information security is a lucrative profession for women looking to get into technology. According to the BLS, the average salary is $99,730 per year. The industry is expected to grow by 32% over the next 10 years. Becoming an information security analyst requires a bachelor's degree in a field related to computers, such as computer science, along with hands-on experience like an internship. Some information security analysts may also pursue outside certifications.
Data Analysts
Businesses collect and use large amounts of data and need professionals who can translate the data into actionable advice. A data analyst earns approximately $62,435 per year, and the specialty is expected to grow 16% over the next 10 years. Some of the positions a data analyst can hold are:
Budget analyst
Market research analyst
Operations research analyst
Logistics analyst
Computer systems analyst
Financial analyst
Typically, a data analyst holds a bachelor's degree in data analytics, computer science, applied mathematics or statistics, or finance and economics.
Computer Network Architects
Designing and building data communication networks such as local area networks (LANs) and wide area networks (WANs) is just one part of what a computer network architect does. They also upgrade hardware and software, incorporate information security, and stay on top of new networking technologies. The average salary is $112,690 per year, and job opportunities are expected to grow by 5% in the next 10 years.
Computer network architects typically have a bachelor's degree in a computer-related field and work about 40 hours per week. Some also hold specialized certifications.
IT Support Specialists
As long as there are humans using computers, there is a need for IT support specialists. These professionals help when users and organizations run into difficulties, and sometimes they work odd hours so that a support specialist can be available 24 hours a day. Some IT support specialists can work from home all or part of the time by using remote IT support software to troubleshoot and demonstrate resolutions.
IT support specialists fall into two categories: computer network support specialists and computer user support specialists. Depending on the position and duties, the job may require either an associate's degree or a bachelor's degree. A computer network specialist focuses on the LANs, WANs, and internet systems, maintains IT networks, and tests and evaluates the systems using monitoring software. A computer user support specialist helps customers and employees with systems, walks them through solutions, repairs or sets up equipment, and trains users on the systems.
Computer network support specialists and computer user support specialists earn $63,460 and $52,270, respectively. The positions are expected to grow by 10% in the next 10 years because most companies need to constantly upgrade equipment and networks to keep up with the rapid pace of technology.
Computer Systems Analysts
Companies are always looking for ways to improve efficiency, and computer systems analysts help them streamline their computer systems. A computer systems analyst studies the organization's existing infrastructure and technology stack then looks for and designs ways to optimize it. Most computer systems analysts have a bachelor's degree in computer science or a related field.
Computer systems analysts typically earn $99,720 per year. Demand is expected to grow by 7% over the next 10 years, which is about average for all occupations.
Database Administrators and Architects
Data is the lifeblood of an organization, and even with so much being stored in the cloud, organizations need database administrators and architects to create and organize systems to store their data. These professionals ensure that data is securely stored in a way that complies with applicable regulations, write procedures that organizations will use to manage their databases, and maintain existing databases to ensure they remain functional.
A database administrator or architect earns $98,860 annually, and the field is expected to grow by 8% over the next 10 years. These professionals typically hold a bachelor's degree in computer science or a related field.
Web Developers
Those with an eye for design or interest in a more creative aspect of information technology may be interested in web development. A web developer designs and creates websites and must know programming and graphic design. Typically a web developer works for a marketing agency, consulting firm, or is self-employed. Web developers test and create website applications, write code for websites, work with other team members to populate the site with content, determine what the layout will look like, integrate multimedia resources like audio and graphics, and monitor website traffic.
Education requirements vary depending on the duties of the web developer. The average salary is $73,760, and the job is expected to grow 13% in the next 10 years.
UX Designers
On the heels of web developers are user experience designers, or UX designers. These professionals create and test interfaces and layouts for websites and applications for usability. In other words, they ensure that when someone is using a website or application, they're not stuck in an endless loop of clicking and hunting to find what they need. UX designers may have a bachelor's degree, although some are hired with a high school diploma and certificate.

The average salary for a UX designer is $77,200 per year, and job openings are expected to grow by 13% over the next 10 years.
Computer Programmers
Writing and testing code is the primary function of computer programmers, who write computer applications and software programs. With the rise of remote work options, many can work from home, although some work in offices. Computer programmers typically have at least an associate's degree. They know several programming languages, such as Ruby on Rails, Java, and Python. A typical computer programming position may involve updating existing programs, replatforming legacy applications to take advantage of the cloud, testing programs to make sure they work and fixing any errors in the code, and writing new programs.
While computer programmers earn around $93,000 per year, demand in the U.S. is expected to decline by 7% over the next 10 years because so much programming can be outsourced.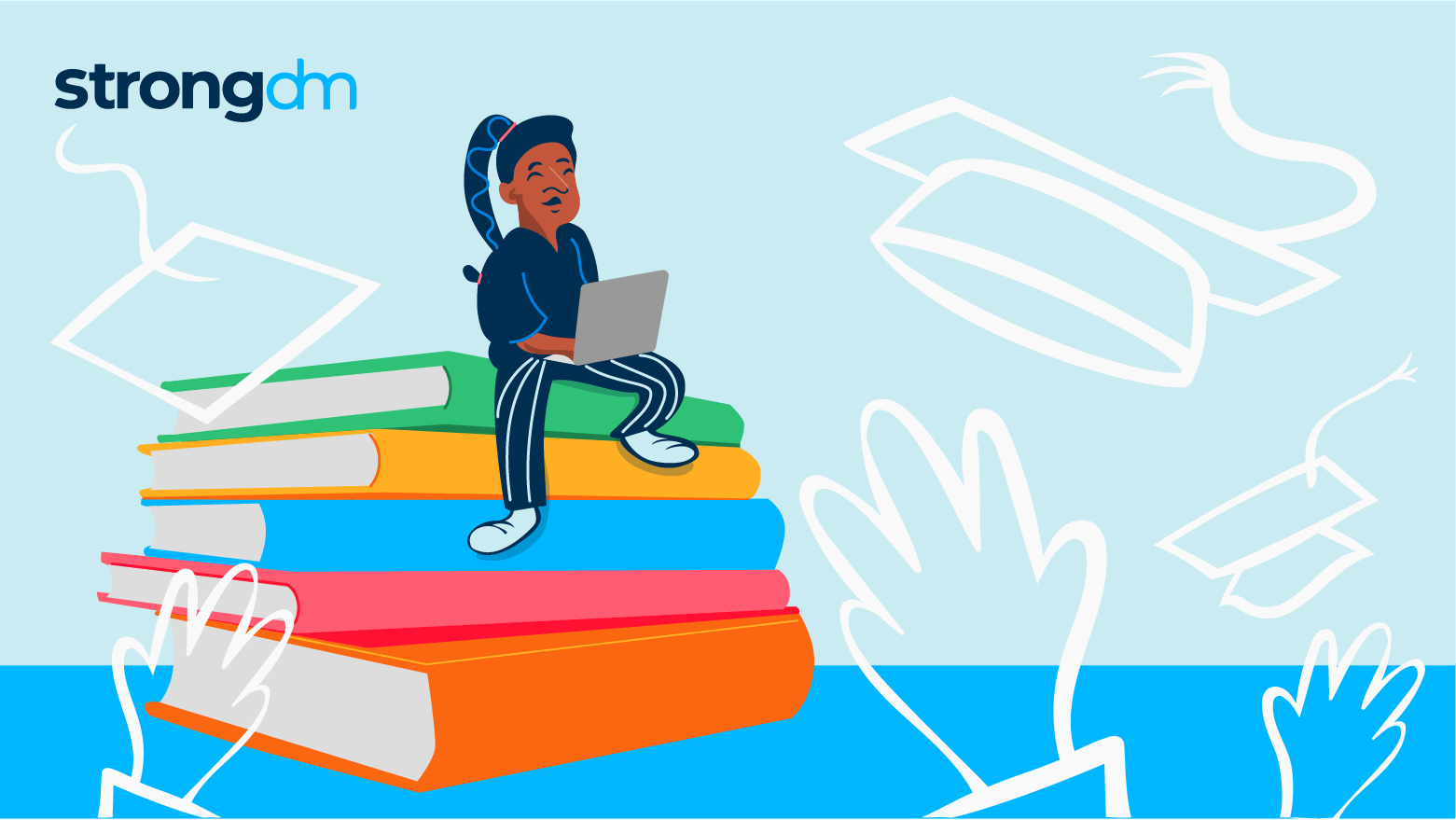 Top 23 Training and Education Resources for Women
For women in information technology, there are plenty of training, education, and support resources. These include:
Education and Training
Organizations
Joining an organization can help women connect with peers, get support, and break into the technology industry. Many organizations also offer educational opportunities, mentorships, and job boards.
Online Networking Groups
Networking can help women in information technology access new opportunities, get support for thorny issues, or obtain professional advice. Online forums can be an affordable and convenient way to connect.
Ada's List

: This website offers job boards and forums to allow women in technology to connect and find opportunities and advice.

Elpha

: This website helps women in technology to connect, discover new career opportunities, and learn from each other in a safe environment.

Ladies Get Paid

: While not specific to the tech industry, this website offers tools and resources to help women negotiate their pay.
Conferences and Events
Those able to travel to an in-person event can meet industry professionals and forge valuable relationships. Here are some conferences geared toward women in information technology.
Grace Hopper Celebration

: This is a series of conferences and the world's largest gathering of women in computing. It's organized by the Anita Borg Institute for Women in Technology and the Association for Computing Machinery.

Women in Tech Festival

: Held in Silicon Valley, this event is two days and celebrates women in STEM, business, and leadership with startup pitches, educational workshops, and mentoring.

Women in Tech Summit

(WITS): This six-day conference offers attendees discussion topics, networking opportunities, and educational sessions.
Advice from Women of StrongDM on How to Get Into IT
Sometimes the best advice for getting into IT comes straight from the women who have been there. Here's how the women of StrongDM found their ideal careers in IT, from how to search for a job to thriving in the workplace.
Erin Dertouzos

,

Vice President, People Strategy

In the past, I've tackled my job searches very similarly to how I invest in the stock market with my "spare // fun" money: I look for companies that are solving problems I care deeply about or building products that are interesting to me. The work we do on a daily basis can be more than just a job description–I've found I'm much more engaged when I can see a bigger impact on a wider swath of people. Whether that is better access to mental health care or more secure and accessible infrastructure, that helps me get up in the morning. I'd recommend women start with a list of companies or products they're passionate about and then research those companies to see if they are aligned with their personal values. Will those companies respect your input? Do they have women in executive leadership roles? If so, then I'd try and find a connection or referral into the company from there. The deeper connection you have to the work you do, the more engaged you will feel, hands down.

Connect with Erin on LinkedIn.
Corinne Reitter,

Director of Engineering
Be unapologetic in your interests and strengths and don't stress in the areas you don't have an interest in. I used to buy so many technical books thinking a particular gap in my skill set would sink me in my career. I was told my "soft skills" weren't as necessary as perfecting a programming language. My career growth has shown this advice to be contrary. Relying on my strengths, acknowledging my gaps, and determining what was necessary to fill and what required support, enables me to focus on finding companies that appreciate what I can bring to the team. You don't need to settle for "bro culture," exclusion, friction or an unappreciative work environment just to pursue your career. The field is vast with plenty of opportunities to find your place.

Connect with Corinne on LinkedIn.
Brittany Bellanca,

Product Designer
Take some time to research jobs in tech that interest you. While developers are critically important, there are plenty of people in all different roles making the tech world run. Look for job descriptions that fit your personality and lifestyle; I wouldn't worry too much about skills yet–you can always learn more skills! Don't be afraid to reach out to people who currently work in the roles you're interested in. Ask them your questions, talk about what a day-in-the-life looks like, get book or course recommendations. Lastly, don't give up. You may face challenges and rejections, but with perseverance and determination, you'll find your place in the tech world.

Connect with Brittany on LinkedIn.
Autumn Wright,

Senior Front-End Engineer
Say yes, even if you only know how to do 60% of the work. There is no magic, only stuff you don't know yet.
Never fire yourself. You're going to run into stuff you don't understand. You're going to make mistakes. There will be people who are much more experienced than you and much better at a particular thing than you. That's not a reason to give up or bow out–it's an impetus for learning and growth.
Tech often feels like the great equalizer because it's a meritocracy that values problem solvers. It doesn't matter what exact technical details you're learning, the real thing you're learning is to solve problems in new and better ways.
Get paid to learn. The 10,000 hour rule is a generalization that asserts that it takes 10,000 hours of practice to achieve mastery of a skill. It's pretty hard to get enough practice doing something to get good at it unless it's a big part of your life, like your day job. Even if you have lofty career goals that require multiple stepping stones, there is huge value in taking a job or taking on a task that gets you in the door and practicing as soon as possible!
Connect with Autumn on LinkedIn.
Now more than ever, the information technology field needs women. By using the resources in this guide, women can write their own ticket and break into lucrative IT careers–and thrive.
StrongDM started as a women-led startup, and it's part of our culture to keep our workforce diverse and inclusive. If you want to join a company that strives to empower people by respecting and appreciating what makes them different, check out our careers page.
---
About the Author
Christine Parizo, Contributing Author, got her start in journalism back when readers still thought clouds were something to watch on lazy, breezy days. In the past decade-plus, she's written for companies ranging from scrappy startups to industry stalwarts. Christine is a frequent contributor to TechTarget's portfolio of sites for information technology and business professionals. She holds a B.S. in Journalism and Public Information from Emerson College. To contact Christine, visit her on LinkedIn.
💙 this post?
Then get all that strongDM goodness, right in your inbox.
You May Also Like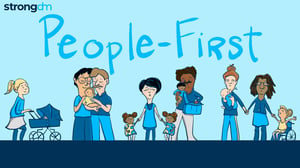 Your family members are the most important people in your life. And when the time comes to welcome your new one, we know you need space to recover, bond, and adjust. That's why strongDM is proud to share a new family leave policy that puts people first.