strongDM vs

alternatives

See why strongDM beats competitors head-to-head
strongDM vs
Teleport
Learn more about Teleport & Teleport Community Edition vs strongDM

strongDM vs
HashiCorp Vault
Learn more about HashiCorp Vault & HashiCorp Vault Open-Source vs strongDM
strongDM vs
Okta ASA
Learn more about Okta Advanced Server Access (ScaleFT) vs strongDM
strongDM vs
CyberArk
Learn more about CyberArk & Thycotic vs strongDM
strongDM vs
HashiCorp Boundary
Learn more about HashiCorp Boundary vs strongDM
strongDM vs
Thycotic
Learn more about Thycotic vs strongDM
strongDM vs
Twingate
Learn more about Twingate vs strongDM
strongDM vs
Tailscale
Learn more about Tailscale vs strongDM
strongDM vs
Google Cloud Identity-Aware Proxy (IAP)
Learn more about Google Cloud IAP vs strongDM
strongDM vs
Amazon Cognito logo
Learn more about Amazon Cognito vs strongDM

strongDM vs
Perimeter 81
Learn more about Perimeter 81 vs strongDM
strongDM vs
Proofpoint
Learn more about Proofpoint vs strongDM

strongDM vs
Pomerium
Learn more about Pomerium vs strongDM
strongDM vs
BeyondTrust
Learn more about BeyondTrust vs strongDM

strongDM vs
Cloudflare Access
Learn more about Cloudflare Access vs strongDM
Trusted by:
Before strongDM it would take up to a week to get someone provisioned. With strongDM we can now do that in minutes.

Ali Khan
CISO, Better
We used strongDM to instantly deliver results to our auditors, which really simplified the SOC2 process.

Jon Hyman
Co-Founder & CTO, Braze
After strongDM, we were able to cut their VPN access so they didn't have that insecure access to the entire private network.

Dave Anderson
Director of InfoSec, Greenhouse Software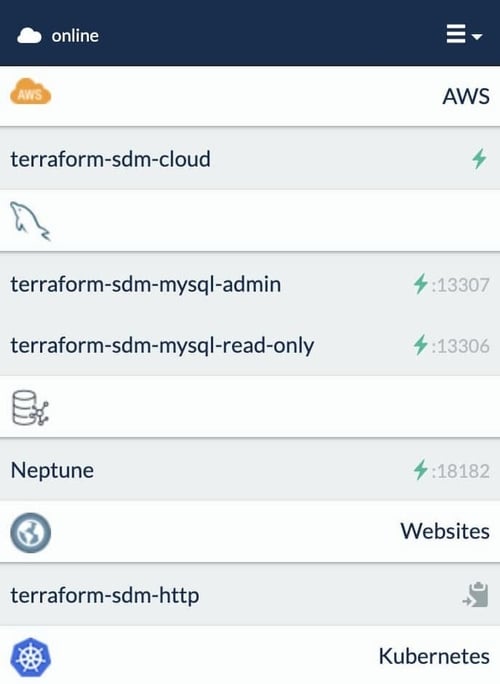 Connect your first server or database in 5 minutes. No kidding.