Why StrongDM?
Prior to StrongDM Better didn't really have a strong management system for database access. Everything was very manual. With StrongDM it's much easier to grant access and audit access control.
Better was able to implement it within a day, and within a week, they saw more and more users requesting access to it once they saw how easy it was to access databases.
Proactive Data Loss Prevention
StrongDM helped Better shift from a reactive to a proactive approach to data loss prevention.
By detecting suspicious behavior in real-time (ex: query after hours, or double expected query volume) they are able to suspend users before potential damage is done.
Faster Incident Response
StrongDM's audit functionality provides peace of mind that every permission change and employee query is automatically logged and instantly accessible.
If an incident ever occurred or an auditor asked, Better would have all the evidence necessary to begin an investigation without delay.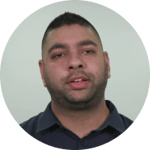 Before StrongDM, it would take up to a week to get someone provisioned. With StrongDM, we can now do that in minutes.
Ali Khan
CISO, Better