Dynamic Access Management platform
Last updated on:
May 4, 2023
Love ❤️ DevSecOps?
Get tips, guides, tutorials, & more in your inbox.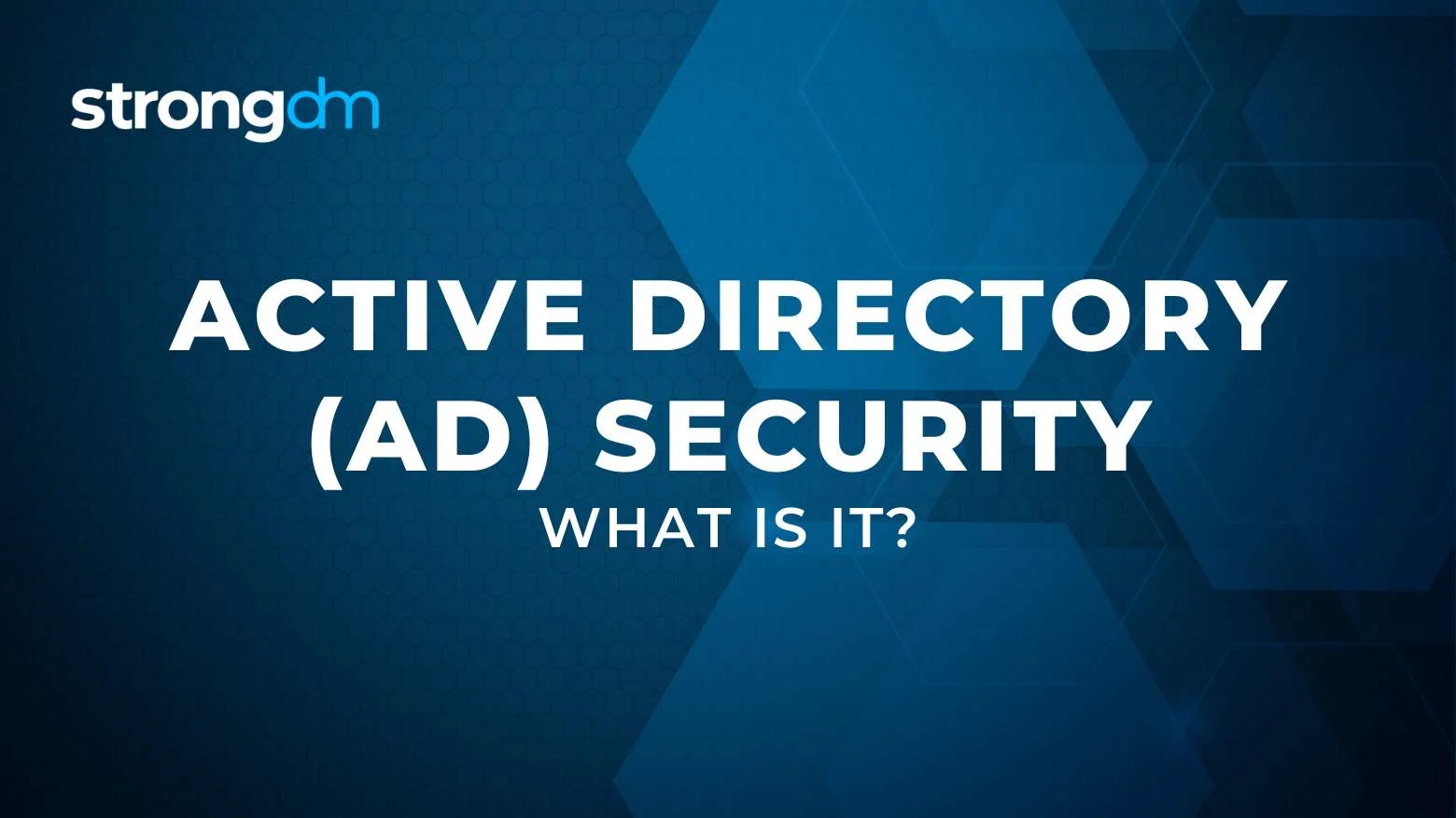 Active Directory (AD) is a critical component for Windows based networks. It is a centralized authentication and authorization service that helps organizations manage users, computers, and applications. AD is responsible for managing permissions to network resources and provides a secure environment for network users. However, as with any critical system, AD is a potential target for cyber-attacks, hence the importance of AD security.
The Importance of Active Directory Security
Protecting Sensitive Data
Active Directory is a vital component of any organization's IT infrastructure. It contains sensitive data, including user credentials, company data, and other organizational data. A breach of this data could lead to identity theft, data loss, or loss of business revenue. Hence, ensuring AD security is critical to protect against data breaches.
One way to protect sensitive data in Active Directory is by implementing strong password policies. This includes requiring complex passwords, enforcing password expiration, and disabling password reuse. Additionally, multi-factor authentication can be implemented to add an extra layer of security to user accounts.
Ensuring Business Continuity
Active Directory is critical for business continuity. A failure in AD services can cause users to lose access to network resources, leading to a loss of productivity and revenue. A consistently up-to-date and well-maintained AD environment ensures business continuity and disaster recovery feasibility in case of an attack or failure.
Regular backups of Active Directory data are essential to ensure business continuity. This includes backing up domain controllers, global catalogs, and other critical components of AD. These backups should be tested regularly to ensure that they can be used to restore AD in case of a disaster.
Compliance with Industry Regulations
Industry regulations, such as HIPAA, FERPA, and PCI-DSS, require organizations to manage and secure their data to prevent unauthorized access to sensitive information. Active Directory security helps organizations comply with these regulations and other best practices.
For example, implementing access control policies in Active Directory can help organizations comply with HIPAA regulations. This includes limiting access to sensitive data to only authorized users and implementing audit trails to track access to sensitive data.
Regular security assessments and audits can help organizations identify vulnerabilities in their AD environment and take steps to address them. This includes identifying and removing inactive user accounts, implementing network segmentation, and monitoring AD logs for suspicious activity.
In conclusion, Active Directory security is critical for protecting sensitive data, ensuring business continuity, and complying with industry regulations. Organizations should implement best practices for AD security and regularly assess their AD environment to identify and address vulnerabilities.
Common Active Directory Security Threats
Active Directory (AD) is a critical component of most organizations' IT infrastructure. It manages user access to network resources and plays a crucial role in maintaining security. However, AD environments are also vulnerable to security threats. In this article, we will discuss some of the most common AD security threats and their potential impact on your organization.
Unauthorized Access
The most common AD security threat is unauthorized access. Attackers can steal user credentials or launch brute force attacks against AD servers to gain unauthorized access. This can happen through a variety of means, such as phishing attacks, social engineering, or exploiting vulnerabilities in the system. Once attackers gain access, they can move laterally within the network, accessing sensitive data and causing damage to the organization. The potential harm of unauthorized access can range from theft of data to financial loss and reputational damage for your organization.
Organizations can take several steps to prevent unauthorized access to their AD environment. These include implementing strong password policies, multi-factor authentication, and monitoring for suspicious activity.
Privilege Escalation
Once attackers gain access to the AD environment, they attempt to escalate their privileges to gain administrative access to the network resources that AD controls. They exploit vulnerabilities in the system to modify or create new user accounts with elevated privileges. Once achieved, the attacker has access to sensitive data and can cause significant damage to the organization.
Organizations can mitigate the risk of privilege escalation by implementing the principle of least privilege. This means that users are granted only the minimum level of access required to perform their job functions. Regularly reviewing and removing unnecessary privileges can also help prevent privilege escalation.
Insider Threats
Insiders with authorized access to AD are potential threats. For example, an employee with elevated privileges may intentionally or unintentionally leak sensitive information to third-party entities, jeopardizing your organization's security. Insider threats can be difficult to detect and prevent, as the individuals responsible for the threat already have access to the system.
To mitigate the risk of insider threats, organizations can implement access controls and monitoring. Regularly reviewing user activity logs and implementing data loss prevention measures can also help prevent insider threats.
Malware and Ransomware Attacks
Malware and ransomware attacks can also target AD environments. Attackers use these types of attacks to gain unauthorized access to the organization's system, cause damage, and extort ransom. Their effects can be detrimental to a business's operations and reputation.
Organizations can protect against malware and ransomware attacks by implementing security measures such as anti-virus software, firewalls, and intrusion detection systems. Regularly backing up data and testing disaster recovery plans can also help mitigate the impact of these attacks.
In conclusion, AD security threats are a significant concern for organizations. By implementing best practices and security measures, organizations can protect their AD environment and prevent potential harm to their operations and reputation.
Best Practices for Active Directory Security
Active Directory (AD) is a vital component of most enterprise networks. It is responsible for managing user authentication, authorization, and access to network resources. AD security is critical to the overall security of an organization's IT infrastructure. Implementing best practices for AD security is essential to mitigate the risk of unauthorized access and data breaches.
Implementing Strong Password Policies
Enforcing password complexity requirements is one of the most critical steps in securing AD services. Passwords that are easy to guess or crack can provide attackers with an easy way to gain access to the network. Therefore, organizations should enforce password complexity requirements such as character length, special characters, and interchanging case sensitive characters. Regularly prompting users to update their passwords also adds a level of security to AD services.
It is also essential to educate users on the importance of creating strong passwords and the risks of reusing passwords across multiple accounts. Encouraging the use of password managers can also help users create and manage complex passwords more easily.
Regularly Reviewing User Permissions
Organizations should assign appropriate user permissions to restrict access to sensitive data and resources. Regularly reviewing user permissions is essential to ensure that users have access only to the resources they need to perform their job functions. It also helps to identify user accounts that are no longer required and can be removed, reducing the attack surface.
It is also essential to implement a process for granting and revoking user permissions. This process should include approval from the appropriate stakeholders and documentation of the changes made.
Monitoring and Auditing Active Directory Activity
Ensuring you have a robust system of activity monitoring and auditing is crucial. It provides complete visibility into who is accessing systems and data, as well as how and when. Monitoring and reporting security events can help identify anomalies that may indicate an attempted or successful attack.
Organizations should implement a centralized logging system that collects and analyzes logs from all AD servers and domain controllers. This system should alert security teams to any suspicious activity, such as failed login attempts or changes to user permissions.
Keeping Software and Systems Up-to-Date
Installing software updates and patches promptly is a critical component of a strong AD security posture. Software vendors often release updates and patches to resolve known vulnerabilities and other security issues. Delaying updates and patches can leave systems and data vulnerable to attack.
It is also essential to implement a process for testing and deploying software updates and patches. This process should include testing in a non-production environment to ensure that updates and patches do not cause any issues with existing systems and applications.
By implementing these best practices for AD security, organizations can better protect their IT infrastructure from unauthorized access and data breaches.
Conclusion
Active Directory Security is essential to the security and protection of data and resources in a Windows-based network. Organizations should play an active role in protecting their AD environments from potential security threats and implementing best practices, as outlined in this article, to minimize security risks.
---
About the Author
StrongDM Team, Dynamic Access Management platform, StrongDM puts people first by giving technical staff a direct route to the critical infrastructure they need to be their most productive.