Dynamic Access Management platform

Product Marketing Manager
Last updated on:
June 28, 2023
Love ❤️ DevSecOps?
Get tips, guides, tutorials, & more in your inbox.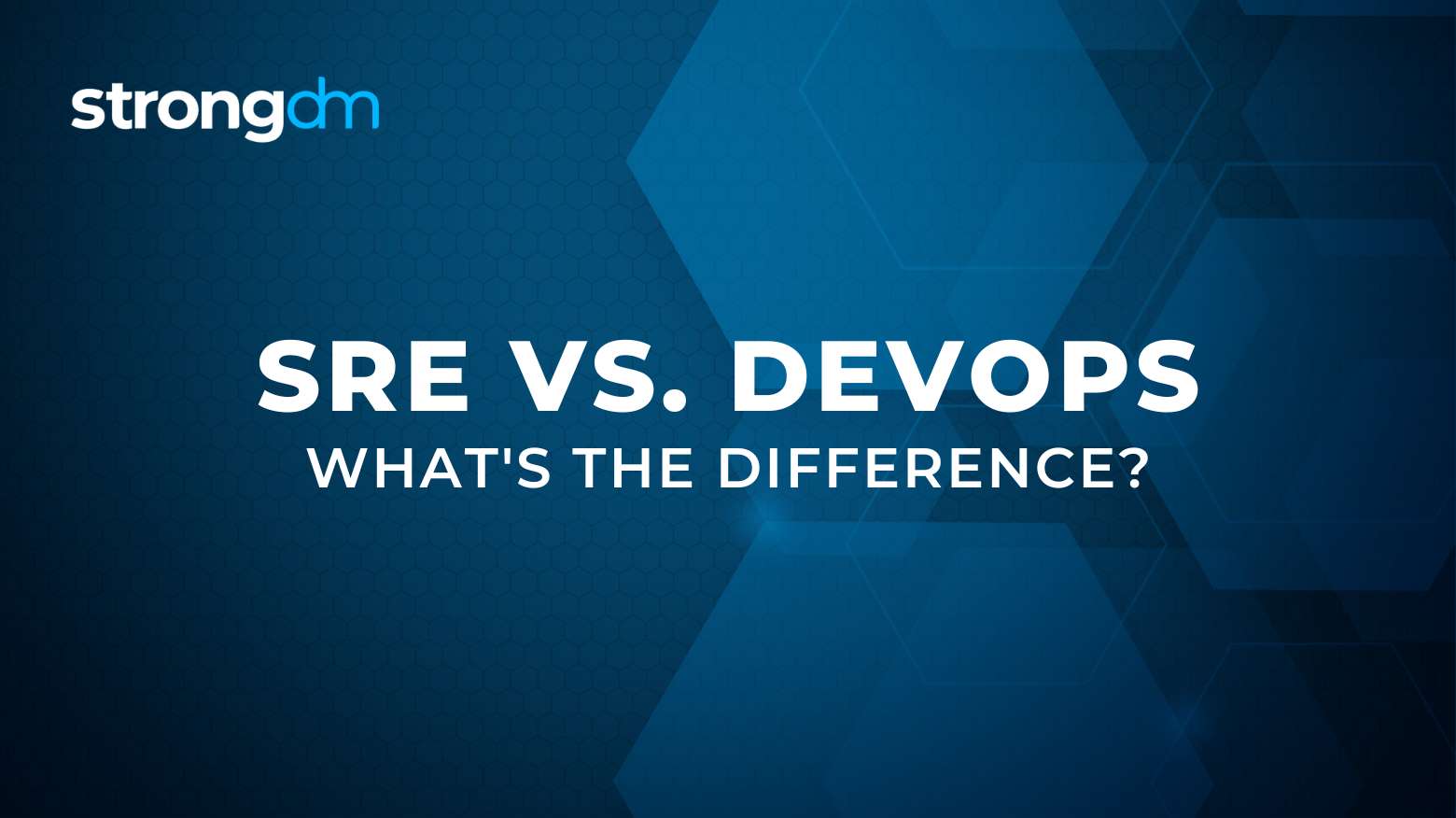 In the realm of software development, there are two popular approaches to managing complex systems: Site Reliability Engineering (SRE) and DevOps. While these methodologies share some similarities, they also have important differences that set them apart. In this article, we'll delve into the origins, principles, and practices of SRE and DevOps, and explore their key similarities and differences.
Understanding SRE and DevOps
To contextualize our discussion, let's start by defining SRE and DevOps.
Defining Site Reliability Engineering (SRE)
Site Reliability Engineering (SRE) is a methodology introduced by Google in 2003 and later popularized by Ben Treynor Sloss. SRE centers around the premise that operational work is a software engineering problem that can be solved through automation, monitoring, and collaboration between development and operations teams.
One of the key principles of SRE is the concept of "error budgets." An error budget is the amount of acceptable downtime or errors that a service can have before it starts to impact users. SRE teams use error budgets to balance the need for new features and improvements with the need for reliability and stability.
SRE also emphasizes the importance of monitoring and measurement. By collecting and analyzing data on system performance, SRE teams can identify areas for improvement and proactively address issues before they become critical.
Defining DevOps
DevOps is a methodology that emerged in the mid-2000s, which aims to remove silos between development and operations teams and align their goals towards delivering value to the customer. DevOps emphasizes practices such as continuous integration, delivery, and deployment (CI/CD), infrastructure as code, and automation.
One of the key benefits of DevOps is the ability to release software more frequently and with greater confidence. By automating the build, test, and deployment process, DevOps teams can reduce the risk of errors and ensure that new features and improvements are delivered to customers quickly.
Another important aspect of DevOps is the focus on culture and collaboration. DevOps teams work together to identify and resolve issues, share knowledge and expertise, and continuously improve processes and practices.
Ultimately, both SRE and DevOps share a common goal: to deliver reliable, high-quality software that meets the needs of users. By combining the principles and practices of these methodologies, organizations can achieve greater efficiency, agility, and innovation in their software development and operations processes.
Origins and Evolution of SRE and DevOps
Both SRE and DevOps emerged from the need to address the increasing complexity of software systems, but their origins and evolution differ. The history of these two practices is fascinating and sheds light on the way we approach software development and operations today.
The Birth of SRE at Google
Google created SRE as an evolution of traditional IT operations, with a focus on applying software engineering principles to operations problems. SRE was designed to ensure that Google's massive, highly distributed systems remained available, reliable, and fast. The origins of SRE can be traced back to the early days of Google, when the company was experiencing rapid growth and needed a new approach to managing its infrastructure.
Google's SRE team was formed in 2003, and its mission was to ensure the reliability and availability of Google's services. SREs were responsible for building and maintaining the infrastructure that supported Google's products, as well as responding to incidents and outages. They were also tasked with developing tools and processes to improve the reliability of Google's systems.
Over time, the SRE team at Google became known for its innovative approach to operations. SREs were encouraged to think like software engineers, and to use automation and code to solve operations problems. This approach allowed Google to scale its infrastructure rapidly, while still maintaining high levels of reliability and availability.
The Emergence of DevOps
DevOps emerged in response to the challenges that development and operations teams faced in delivering software products rapidly and reliably. Agile development practices paved the way for DevOps by emphasizing collaboration and continuous improvement, laying the groundwork for the merging of development and operations into a single team.
DevOps was first coined as a term in 2009, and it quickly gained popularity as a way to bridge the gap between development and operations. The goal of DevOps was to create a culture of collaboration and shared responsibility, where developers and operations teams worked together to build and maintain software systems.
DevOps practices include continuous integration and delivery, infrastructure as code, and automated testing and deployment. These practices help teams to deliver software rapidly and reliably, while also ensuring that systems are scalable, secure, and resilient.
Today, DevOps is widely adopted across the software industry, and it has transformed the way we approach software development and operations. DevOps has enabled teams to deliver software faster and more reliably than ever before, and it has also helped to improve the quality and security of software systems.
Key Principles and Practices
SRE Principles and Practices
The guiding principles of SRE revolve around the fact that production environments invite operational work, which can be reduced through automation. SREs aim to improve system reliability by implementing the following practices:
Service-level objectives (SLOs) and service-level indicators (SLIs) to measure reliability and define acceptable levels of downtime.
Error budgets, which allow for planned downtime and enable teams to balance between innovation and reliability.
Blameless postmortems, which focus on identifying and addressing the underlying causes of incidents, rather than blaming individuals.
Automation of common operational tasks, such as deployment, scaling, and incident response.
Monitoring and alerting for early detection and resolution of issues.
DevOps Principles and Practices
While DevOps does not have a set of prescribed principles, there are some common practices that DevOps teams follow to achieve their goals, including:
Automation of the software delivery pipeline using CI/CD.
Collaboration between development and operations teams, facilitated by cross-functional roles and responsibilities.
Transparent communication and feedback loops between teams.
Infrastructure as code, which enables teams to manage infrastructure with the same processes and tools as software code.
Continuous monitoring and measurement of system performance to detect issues early.
Roles and Responsibilities
The SRE Team
The SRE team, also known as the Site Reliability Engineering team, is a group of highly skilled engineers who are responsible for ensuring that systems are reliable, scalable, and efficient. They are experts in designing, building, and maintaining large-scale distributed systems.
SREs are engineers first and typically have a background in software development. They collaborate with development teams to create reliable systems using automation and monitoring. They also work closely with product managers to ensure that the systems they build meet the needs of the business.
In addition to building and maintaining systems, SREs are responsible for monitoring the health of the systems they manage. They use a variety of tools to detect and diagnose issues before they become critical. SREs also perform on-call duties to maintain system availability and respond to incidents.
One of the key responsibilities of the SRE team is to ensure that systems are highly available. This means that they must be able to handle large amounts of traffic without experiencing downtime. To achieve this, SREs use techniques like load balancing, caching, and auto-scaling to ensure that systems can handle spikes in traffic.
The DevOps Team
The DevOps team is a cross-functional team that includes developers, operations professionals, and other stakeholders. DevOps teams work together to deliver software products rapidly, efficiently, and reliably. This collaboration facilitates the continuous integration and delivery of code, and enables teams to respond to changes in customer needs and market conditions quickly.
DevOps teams are responsible for automating the software development process, from code creation to deployment. They use tools like Git, Jenkins, and Docker to automate the creation, testing, and deployment of code. This automation enables teams to deliver high-quality code quickly and reliably.
In addition to automating the software development process, DevOps teams are responsible for monitoring the health of the systems they manage. They use tools like Nagios, Prometheus, and Grafana to monitor system performance and detect issues before they become critical.
One of the key responsibilities of the DevOps team is to ensure that the systems they manage are secure. This means that they must ensure that the systems are protected against cyber attacks and other security threats. To achieve this, DevOps teams use techniques like encryption, access control, and vulnerability scanning to protect the systems they manage.
Wrapping Up
Site Reliability Engineering and DevOps share many similarities and both have a proven track record for improving software performance and reliability. Both approaches require collaboration between development and operations teams, and both emphasize the importance of automation and monitoring. However, SRE and DevOps differ in their origins, principles, and practices. By understanding these differences, teams can make informed decisions about which approach is best suited to their unique needs and contexts.
---
About the Author
StrongDM Team, Dynamic Access Management platform, StrongDM puts people first by giving technical staff a direct route to the critical infrastructure they need to be their most productive.