Co-founder / CCO

Last updated on:
May 5, 2023
Love ❤️ DevSecOps?
Get tips, guides, tutorials, & more in your inbox.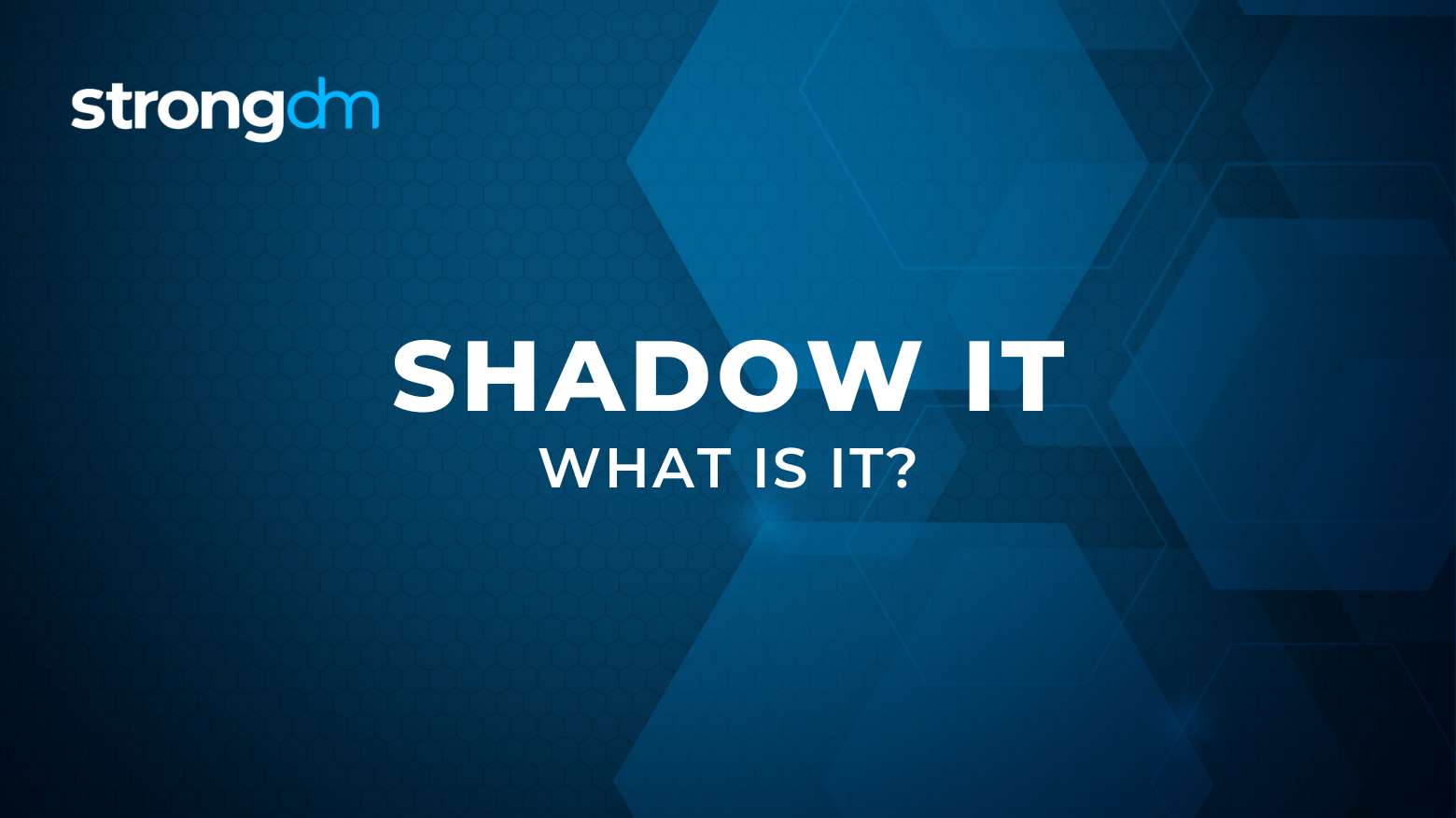 What is Shadow IT?

Shadow IT is software or hardware in use in an organization without the knowledge of the IT department. Business units or individuals may adopt cloud services, software, or devices without informing IT to help boost productivity. Shadow IT can result in application sprawl, inefficiencies, and security gaps exploitable by cyber attackers.
While IT oversight and approval of all technology in use are ideal in theory, in reality, they can be a bottleneck to innovation and productivity. This is why staff increasingly adopt and use software-as-a-service (SaaS), infrastructure-as-a-service (IaaS), and platform-as-a-service (PaaS) offerings at their own discretion. These services and applications can boost innovative and collaborative efforts, and many employees feel that IT involvement would stall them and reduce these benefits.
On the other hand, applications, services, and devices that are in use and off of IT's radar may not be entirely secure. The consumerization of IT—cloud services and SaaS apps in particular—has made it easy to adopt shadow IT. In fact, at many enterprises, there are now hundreds of applications in use. Some of these applications may include features for file sharing, collaboration, or storage, which make them vulnerable to breaches or data leaks and may violate compliance rules.
Ordering a total halt on shadow IT adoption is not always feasible or even desirable for most organizations. On the other hand, log data from firewalls or proxies, cloud access security brokers (CASBs), and application-discovery software can help IT teams discover shadow IT. They can then assess the risk of specific IT, implement usage policies, address inefficiencies or redundancies, and standardize what IT deems secure.
Reasons for the Emergence of Shadow IT
Employees use Shadow IT for a variety of reasons. The most common are:
Disappointing IT service:

If employees find that the IT department is slow to respond or doesn't offer the tools they need, they may feel compelled to develop their solutions.
Cost:

Some employees may use free or low-cost software solutions instead of licensed company systems to save on expenses.
Use of remote devices:

With remote work on the rise, employees use their devices more frequently. They need software and tools they can access everywhere, including on their mobile devices.
Speed:

Employees may use Shadow IT to develop their systems and solutions quickly to meet tight deadlines.
Another reason for the emergence of Shadow IT is the increasing prevalence of Bring Your Own Device (BYOD) policies in the workplace. These policies allow employees to use their personal devices for work purposes, which can lead to the use of unapproved software and services.
Examples of Shadow IT in Organizations
Examples of Shadow IT in organizations are widespread, and they can take many different forms. Some examples include:
Employees using messaging apps like WhatsApp or Slack to communicate instead of emailing or using company-approved software.
Using free web-based project management or file sharing tools like Trello, Google Drive, or Dropbox instead of using company fileservers or project management tools.
Developing custom-coded software solutions without IT department participation.
Using personal smartphones and tablets for work instead of company-issued devices.
It is important for organizations to be aware of Shadow IT and to take steps to manage it. This can include implementing policies and procedures to regulate the use of software and services, providing employees with the tools they need to do their jobs effectively, and educating employees about the risks associated with Shadow IT.
Ultimately, managing Shadow IT requires a balance between encouraging innovation and productivity while also maintaining security and compliance.
The Risks and Challenges of Shadow IT
Shadow IT refers to the use of information technology systems, devices, software, applications, and services without the knowledge or approval of the IT department. While it may seem like a harmless practice, Shadow IT can pose significant risks and challenges to businesses, including:
Security Concerns
One of the most significant risks of Shadow IT is the security issues it can pose. Since the IT department is not aware of the systems and solutions the employees are using, they can't ensure that data is kept secure. Shadow IT systems may also not adhere to the company's security policies, exposing the company to data breaches and other security risks.
For example, an employee may use a cloud-based file-sharing service to store and share sensitive company data without the IT department's knowledge. If the service is not secure, the data may be vulnerable to cyber attacks, putting the company at risk of financial loss and reputational damage.
Compliance Issues
Shadow IT can also lead to compliance issues. In regulated industries such as healthcare or finance, there are strict compliance guidelines that businesses must follow, and IT departments play an essential role in ensuring adherence. But when employees use Shadow IT, compliance issues can arise, which can result in hefty fines and legal implications.
For instance, an employee may use a personal email account to communicate with clients, which violates the company's compliance policies. If the email contains sensitive information, the company may face legal action and financial penalties.
Data Loss and Leakage
When employees use Shadow IT, there's a risk of data loss and leakage if the data is stored in a location that's not approved by the company's IT department. Instances of data loss and leakage can be costly and impact the company's reputation severely.
For example, an employee may store company data on a personal device that's not secured, making it vulnerable to theft or loss. If the data falls into the wrong hands, it could be used for malicious purposes, causing significant harm to the company.
Inefficient Resource Utilization
Shadow IT can cause inefficiencies in resource utilization. By using their tools and systems, employees may duplicate efforts or use outdated tech, ultimately leading to more significant expenses for the company.
For instance, an employee may use a personal project management tool to manage their tasks instead of the company's approved tool. This may lead to duplication of efforts and confusion among team members, ultimately impacting the company's productivity and bottom line.
Therefore, it's crucial for businesses to have a clear policy on the use of technology systems and services and educate their employees on the risks and challenges of Shadow IT. By doing so, businesses can minimize the risks and ensure the security and compliance of their data and systems.
The Benefits of Shadow IT
Shadow IT refers to the use of technology solutions and systems by employees without the knowledge or approval of the IT department. While it may seem like a security risk, there are several benefits to Shadow IT that companies should consider.
Encouraging Innovation
One of the significant benefits of Shadow IT is that it can encourage innovation. When employees are using tools that best match their needs, they can come up with creative solutions or processes to improve their work effectiveness and boost productivity. For example, an employee may use a project management tool that is not approved by the IT department but is more intuitive and easier to use than the company's approved tool. This can result in the employee being more productive and efficient, leading to better outcomes for the company.
Furthermore, the use of Shadow IT can lead to the discovery of new technologies that the IT department may not be aware of or have the resources to investigate. For example, an employee may use a new software tool that can automate a process, saving time and reducing errors. The IT department can then evaluate the tool and decide whether to adopt it company-wide.
Faster Implementation of Solutions
Shadow IT can allow for faster implementation of solutions. If an employee's Shadow IT system prototype works well, it can be rapidly adopted and integrated into the company system. This can save time and resources as the IT department does not have to spend time developing a solution from scratch. Additionally, Shadow IT systems can offer a proof-of-concept for a project before the IT department decides to invest in it. This can help reduce risk and ensure that the project is viable before committing significant resources.
Meeting Unique Business Needs
Shadow IT can help meet unique business requirements that IT departments may not have the resources or time to tackle. This is especially important in industries where there are rapidly changing regulations or standards. For example, a company may need to comply with new data privacy regulations, and an employee may find a tool that can help with compliance. The IT department may not have the resources to investigate the tool, but the employee can use it to ensure compliance.
Employee Empowerment
The use of Shadow IT can empower employees. When employees develop their solutions, they may feel more in control of their work. Additionally, employees may feel that their concerns and opinions are heard, resulting in better job satisfaction. This can lead to higher employee retention rates and a more engaged workforce.
However, it is essential to note that Shadow IT can also pose security risks, and companies should have policies in place to manage its use. Companies should encourage employees to report their use of Shadow IT and provide resources to help them find approved solutions that meet their needs. By managing Shadow IT effectively, companies can reap the benefits while minimizing the risks.
Managing and Mitigating Shadow IT
Identifying Shadow IT in Your Organization
The first step in managing and mitigating Shadow IT is to identify it. IT departments should implement robust monitoring tools that create visibility on network usage and software installation on all employees' devices and monitor social media and messaging for signs of Shadow IT.
Establishing Clear IT Policies and Guidelines
IT departments should also establish clear IT policies and guidelines for employees, outlining what's acceptable and what's not. They should communicate these policies and guidelines frequently and use an approval system for new software to ensure that any Shadow IT that's brought to their attention is approved and secure for use.
Promoting Open Communication and Collaboration
One of the best ways to manage Shadow IT is through open communication and collaboration. IT departments should ensure the employees know what resources are available and encourage feedback on how best these resources can serve them. By involving employees in the company IT strategy, they feel more invested and are more likely to comply with IT policies and guidelines.
Implementing Monitoring and Control Measures
To mitigate shadow IT, IT departments should also implement monitoring and control measures. This can include firewalls and access permissions for company software, patch management for software, data backups, and control mechanisms.
Shadow IT Key Takeaways
The consumerization of IT and the proliferation of cloud services and SaaS apps have increased Shadow IT in organizations.
Application sprawl, inefficiencies, security gaps, and compliance issues are common side effects of Shadow IT.
Log data, application-discovery software, and cloud access security brokers can help IT teams bring shadow IT under control.
---
About the Author
StrongDM Team, Dynamic Access Management platform, StrongDM puts people first by giving technical staff a direct route to the critical infrastructure they need to be their most productive.