Co-founder / CTO
Last updated on:
November 21, 2022
Love ❤️ DevSecOps?
Get tips, guides, tutorials, & more in your inbox.
What is Continuous Adaptive Risk and Trust Assessment (CARTA)?

Continuous Adaptive Risk and Trust Assessment (CARTA) is an IT security framework that goes beyond traditional role-based access control (RBAC). By adding attribute-based access control (ABAC), it enables continuous, context-aware security assessment in real time. Gartner introduced CARTA in 2010, building on its original Adaptive Security Architecture.
Traditional security solutions rely on binary block/allow decisions to determine risk. For example, RBAC relies on credentials, like usernames and passwords, to authenticate and authorize users. The weakness of RBAC by itself is that it basically trusts users once they've logged in, which creates a risk of zero-day attacks, insider threats, or attacks via compromised credentials.
CARTA does not do away with RBAC, but instead adds to it with methods for monitoring, detecting, and alerting beyond log-in. For example, machine learning (ML) and artificial intelligence (AI) can examine traffic patterns, users, networks, and assets to find threats. In the event that suspicious behavior or anomalies occur, automated responses or alerts can prevent attacks or breaches.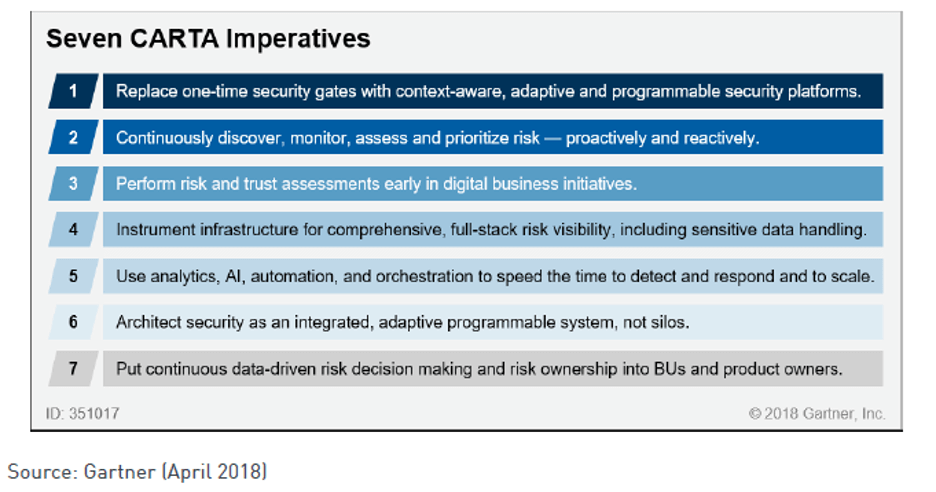 CARTA offers a more workable defense posture to modern companies offering digital services to consumers. These organizations must open their networks to many individuals without traditional authorization. They require a new kind of security that balances business-friendliness with protection that doesn't begin and end with RBAC.
Key CARTA Takeaways:
CARTA is an improved security framework, especially for businesses that cannot apply RBAC to everyone accessing their network.
Traditional RBAC is still a security best practice, but CARTA adds additional protection.
One of CARTA's main strengths is that it can monitor and react to user behavior post log-in.
CARTA leverages ML, AI, and automation to detect and respond to anomalies and potential threats.
---
About the Author
Justin McCarthy, Co-founder / CTO, originally developed empathy for Operations as a founding and pager-carrying member of many operations and data teams. As an Executive, he has led Engineering and Product in high-throughput and high-stakes e-Commerce, financial, and AI products. Justin is the original author of strongDM's core protocol-aware proxy technology. To contact Justin, visit him on Twitter.